Cardio-Oncology
    The European Society of Cardiology
    The CardiOncology Society of North America,
    Cardio-Oncology, an open access online journal
    Editorial on cardio-oncology from the inaugural issue of « Advances in Oncology       Research and Treatments« .
Resources for chemistry
    Prof Rowlands' lectures at Massey University

Blogs
    Derek Lowe's blog on drug discovery and the pharma industry
Institutions
      European Research Area Network on Cardiovascular Diseases (ERA-CVD)
    International Agency for Research on Cancer (IARC)
     Association d'Aide à la Recherche et à l'Enseignement (A.A.R.E.C.)
    Laboratoires Français privés et publiques travaillant sur le cancer
    Tianjin University of Science and Technology ( 天津科技大学 )
Foundations
     Association de Recherche sur le Cancer (ARC)
     Fondation pour la Recherche Médicale en France (FRM)
Art and chemistry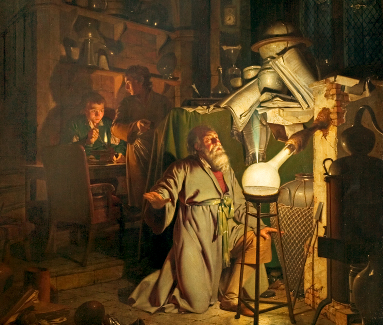 The Alchemist Discovering Phosphorus, by Joseph Wright of Derby, Derby Museum and Art Gallery.
     Butterfly Landscape (The Great Masturbator in a Surrealist Landscape with D.N.A.), by Salvador Dali.
     Molecular art. By David Goodsell.
     Molecular Modeling Gallery. CallTech molecular modeling gallery.
     Molecular Paintings and Art at Artist Rising. A division of art.com inc.
     Dancing lizards. Cultivating science and artistry to bring together visualization.